If you want to get a cat, you are faced with the first problem: How do I get the animal home? A cat carrier is needed! But what kind is best, what kind of carriers are available and which ones can I recommend? Let's find out!
Which type of cat carrier is best?
In principle there are three types of cat carriers:
Cat carriers made of wicker
Cat carriers made of fabric
Cat carriers made of plastic with door at the front or top
Let's consider the pros and cons of each of these.
Wicker basket cat carrier
Gives protection, cannot be crushed by heavy objects.
Pretty to look at so nice to keep out as a hiding place for your cats.
They're usually a bit small.
No straightforward way of securing this in the car.
Cat carriers made of basket weave or wicker (also known as rattan) are a safe place for your cat as they offer protection from falling objects. They also are pretty to look at, so having the carrier out in your house or apartment as a hiding spot for your cat to sleep in might even add to your decor.
The disadvantages of wicker basket carriers are that they seem to all be rather small (I only found this one on Amazon.co.uk*, my local pet store doesn't sell them) and they don't seem designed in a way that permits you to secure them in a car.
To me, being able to strap the carrier into the car securely is very important. You wouldn't drive a car without buckling up yourself or your child (I hope), so you should not try it with the cat.
Cat carrier bags
Very portable.
Don't take up much space when not in use.
Extremely lightweight.
Won't protect your pet from falling objects.
Carrier bags made of fabric are available looking like classic sports bags* (some, like this one*, are even expandable) or in more of a backpack design*.
Advantages are their portability – you just hang them over your shoulder – and also that they don't take up much space. When you don't need them, you fold them up and they disappear into any wardrobe.
The big disadvantage of a fabric cat carriers is that your cat won't be protected in them. If a heavy objects falls on the bag or someone stumbles over it, your cat will likely get hurt.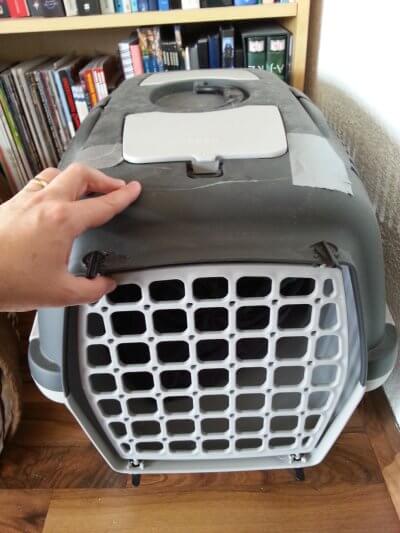 Plastic cat carriers
Protect your cat from falling objects.
Easy to clean.
Easy to secure in your car.
They take up a lot of space.
Your third option then are plastic cat carriers. They usually can be opened in more than one way and have a hard shell to protect your feline friend.
A big advantage is safety, as their hard plastic shells will protect your cats from falling objects or stumbling people. Also, if you're taking your cat somewhere in your car, you can loop the safety belt through special hooks and give your cat some extra protection that way. (At least the Trixie Capri* has that option, which is why I'd recommend it.)
The big disadvantage of plastic cat carriers is probably their size. You can't fold them up like a bag, so you might have them sitting about in your apartment on display at all times. (If you don't mind this, though, they'll act as a nice hiding place for your cats so ideally, they'll develop a positive association with it.)
---
Also interesting: 12 Ideas for Nice Things You Can Do For Your Cats
---
Talking about falling objects: Once a shelf board fell from a height of about two meters onto our plastic cat carrier, which left the carrier with a crack. If a cat had been sitting in it, it might have had a heart attack, but the board would definitely not have hurt it. And if you're thinking, "I'm careful, I won't drop things on my cat!", let me just point out that accidents happen and it's your cat's life your risking.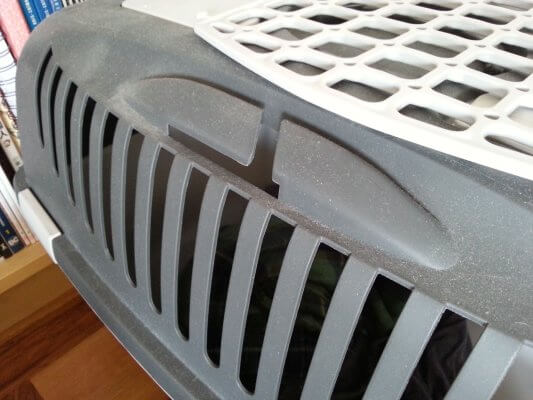 How easy are they to clean?
In terms of cleaning your cat carrier, it doesn't get much more convenient than plastic. You can hose it down and wait for it to dry without any issue.
The wicker basket carrier on the other hand will probably get all sorts of dirt into the cracks that are hard to ever get out.
As for a fabric carrier bag – this one's fairly easy to clean as well, but smells might linger a bit longer. A few years ago we took care of two cute cats for friends, one of which threw up all over her cloth bag on the way to us in the car (the poor, frightened girl). In the end it was easy to wash off the vomit, but it still smelled a bit for a while.
How many cat carriers do you need for two cats?
This one's easy: You need one transport box per cat, unless you're carrying small kittens. When we got Garrus and Wrex, we put both of them into a small Trixie Capri* carrier. They jumped around happily in it because they were so small that they had plenty of room.
This is fine for kittens, but when they get bigger, the box gets too small and the vet won't like having to handle two cats at the same time. So I strongly advise against one carrier for two cats. You need one carrier box per cat.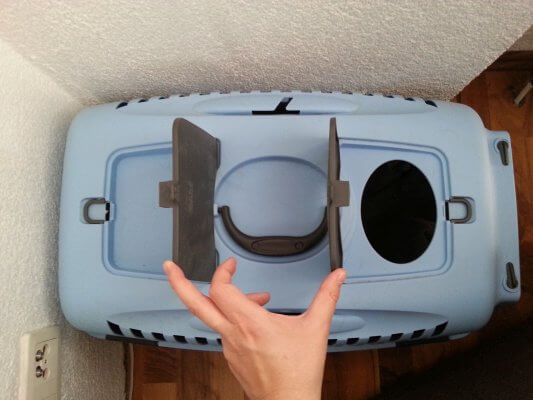 How big should the cat carrier be?
The small version of the Trixie Capri (12.5″ x 12.2″ x 18.8″ or 32 × 31 × 48 cm) is too small for our 6 kg males. It's not that they did not fit into it their carriers anymore, but there wasn't a lot of wiggle room and our vet recommended bigger crates, suggesting they'd be more relaxed in those. She was right. We switched to the larger version (14.5″ x 13.3″ x 21.6″ or 37 × 34 × 55 cm) and donated the smaller carriers to our shelter. In retrospect I'd simply buy the bigger carriers from the beginning – this way they may have much more space as kittens than necessary, but you don't have to buy carriers twice.
I think that the Trixie Capri in the big version is a good carrier crate for big cats – because as I said, our tomcats weigh 6 kilos (13lbs) each and you still feel like they have some space to move and turn around. Also, the box is definitely stable enough to carry their weight. According to the manufacturer's description, the large transport box is designed for a "recommended maximum body weight" of 8 kg (17.5 lbx) – so that should be enough for most cats, except maybe for heavy Maine Coons, which according to the Internet can weigh up to 9 kg or 20lbs.
Useful features
As mentioned before, we bought the Trixie Capri cat carrier (available on Amazon*), first in the small version then in the bigger one. There are many similar types of cat carrier on Amazon, like the Amazon Basics Travel Carrier*, the Midwest Spree Travel Cat Carrier* or the Petmate Ruffmax Travel Carrier*.
These models usually have a flap at the front, which can be opened and closed relatively easily to get your pet in and out. To do so, there are knobs on the top and bottom you can turn sideways to take the whole front flap off.
Alternatively, there are latches on the sides that you can open to remove the entire upper half of the cat carrier. This is handy for the vet, because then you can take off the upper half and simply hold your cat while it's still sitting in the lower half of the box for his examination. Afterwards just put the lid back on and you are done. This is useful for shy boys like ours.
Opening the carrier like this works well at the vet, but putting them into the box can be a bit more of a challenge. Since our cats were neutered, they dread going to the vet, so the front flap works quite well if you want to put them in there and quickly close the door behind them. One could certainly counteract their anxiety with some clicker training, but I must say that the change from the smaller model of the carrier to the larger model also helped a bit in getting them to go in there.
Some cat carriers, like the Petmate Two Door Top Load, have an extra door on the top of the crate. This might also make it easier to get your pet into the crate, but it certainly depends on your "loading technique" and your cat's willingness to cooperate.
Pretty much all the boxes have a door on the front that your cat can look through, plus they have ventilation slits all across the sides. Obviously your cat can peak out through those as well.
Other than that, the carrier is closed off and I'm sure this cave design lets them feel protected. Nobody can attack them from the top, the back or the side, and they can see what is coming towards them from the front. Garrus also likes to lie down in his box and sleep at home – but he loves caves in general.
As mentioned above, the cat carrier also has a hook on top of the lid through which you can pull a safety belt so that the cats are a bit safer when being transported in the car. This way the crate can't fall off the seat even when you have to brake hard.
Some models, like the Trixie Capri, has extra flaps on the top, one for putting in treats (I think) and one that has a little hole so you could deliver the treat or look at your cat. I have never actually used either flap before. There are also two plastic hooks for attaching a carrying strap, even though no strap was included.
Lastly, the carriers have a robust handle on top for carrying the carrier and your 8 kg cat. I've never had any issues with my 6kg cats, nothing ever seemed flimsy or like it was about to break.
---
I hope my description helps you a little bit with your purchase decision. In my opinion you can't go wrong with the either one of the plastic models and they won't set you back by much.
Small tip: Sometimes cat carriers come in a variety of colors and some colors might show up slightly cheaper on Amazon. It's often worth comparing prices here!